These 2 dogs are awesome dogs and a good size.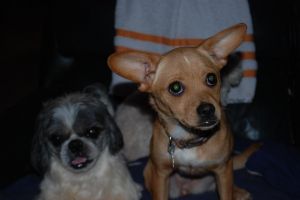 Bono

Herbie

Bono has received no interest. He's pretty laid-back, loves play with toys; he will fetch anything you throw for him, inside or outside! He's still learning "give", to relinquish the toy/ball. He prefers "keep away"! Supposedly he looks just like Harry Potter's dog but I have seen none of the movies, so can't vouch for that.

I haven't met Herbie but his foster mom, who used to have Shar Peis, says he has the Shar Pei temperament. They're pretty laid-back as well. Plus, with Herbie, you don't have to worry about all the problems those wrinkles provide!

--------------------
Handle every stressful situation like a dog. Pee on it and walk away.